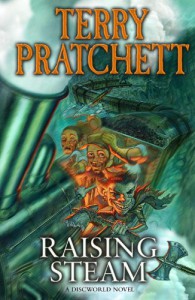 "Raising Steam," was the penultimate novel in the Discworld series, before, "The Shepherd's Crown," which dealt with the passing of Nanny Ogg, possibly deliberately to parallel Terry's own passing.

To my eyes, this book investigates the futility of the far right in trying to turn back the progressive multiculturalism in the world. A group of renegade Dwarves who think that progress has led them to abandon what it means to be a true dwarf, are running a guerilla war trying to disrupt progress. The renegades will play while the King is away, and the race is on to get the King back to the Scone of Stone before too much damage is done.

In aid of this, the new fangled steam engine is employed, along with decoys and a fair chunk of fighting. In with this are echoes of humanity and moral introspection typical of later Pratchett works. Personally, I found the Discworld series starting with hilariously twisted observations on everyday society and as it progressed the sharp wit was replaced with a deeper look at humanity and the morals which drive us. Had Pratchett lived, I believe he might have taken a look at the other side of the coin, the far left and political correctness; which I believe he did occasionally swipe at, but that's just a guess.

The end of this book was a bit of a disappointment for me, personally; not unlike the protagonist waking up to find the whole thing had been a dream. It was a logical conclusion... that being insofar as logic could ever be applied to the Discworld, but I can't help feeling a bit empty inside at the end.